Stamped Concrete Denver
What to know about stamped concrete in Denver
With ties to the Wild West, Denver was a boomtown beginning as a mining camp and flourishing now as a modern-day, culturally diverse metropolitan area. Its growing population traverses the city which sits at the base of the Rocky Mountains. Covering much of its urban and residential sidewalks, patios, and promenades is stamped concrete, the most versatile of surfaces for a destination city rich in ranching and rustic lifestyles, and modern appeal.
See popular stamped concrete patterns
See popular stamped concrete colors
Get a list of local concrete contractors in Denver
Popular Stamped Concrete Patterns in Denver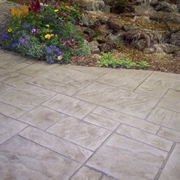 Rocky Mountain Concrete Specialists in Morrison, CO
Because of the high plains and mountainous regions surrounding Denver, the most popular styles of stamped concrete usually include ashlar slate, seamless slate, and random stone. Each of these patterns complements rustic-themed environments without drawing attention away from the natural landscape. Popular colors include terra cotta, tan, and dark brown.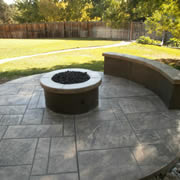 Front Range Decorative Concrete in Englewood, CO
Although views of the Rockies suggest Denver can be a cold, mountain city, the climate in Denver is surprisingly mild. Because stamped concrete can withstand a range of climate stresses, it is a perfect fit for the Mile High City. Stamped concrete is often selected as the surface for outdoor areas because:

It does not get uncomfortably hot in warm weather
It provides slip resistance in wet weather
It can withstand freeze/thaw environments when installed properly
Comparing Stamped Concrete to Other Materials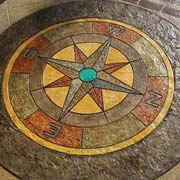 Table Mountain Creative Concrete in Golden, CO
In Denver and around the country, stamped concrete is used in a variety of both indoor and outdoor areas. The most popular applications are for walkways, sidewalks, patios, pool decks, driveways, and entryways.


Stamped concrete adds texture and pattern to poured concrete, and therefore has a number of advantages over other materials such as pavers or natural stone.
Stamped concrete is more customizable. It can be colored in a variety of colors, such as the compass (pictured) installed by Table Mountain Creative Concrete in Golden, Colo. And it is not limited to a selection of patterns. Stamped concrete can be textured, patterned, and saw cut into almost any design imaginable. Compared to pavers or natural stone such as flagstone, etc., stamped concrete is more durable and longer-lasting. While pavers and natural stone will require resetting or replacement over time, stamped concrete is a solid, natural-looking surface that requires little maintenance. Stamped concrete also has less tripping hazards, which can become a concern with unsettled pavers or stones.
Learn more about stamped concrete in this stamped concrete infographic.
Check out this other great work from Denver concrete contractors: